The Centers for Disease Control and Prevention has published 'Surveillance for Acute Flaccid Myelitis – United States, 2018' in Morbidity and Mortality Weekly Report (click for link to article). The article summarizes AFM for 2014-2018.
There were 233 confirmed cases of AFM in 2018, which is the largest number since surveillance for this condition began in 2014. AFM is defined as a disease of the nervous system – the brain and spinal cord – in which muscles and reflexes become weak, often accompanied by paralysis. Recently the definition has been modified to include MRI evidence of spinal lesions. The number of AFM cases have increased since 2014, mainly in young children. However, AFM is a rare disease, affecting 1-2 per million children each year.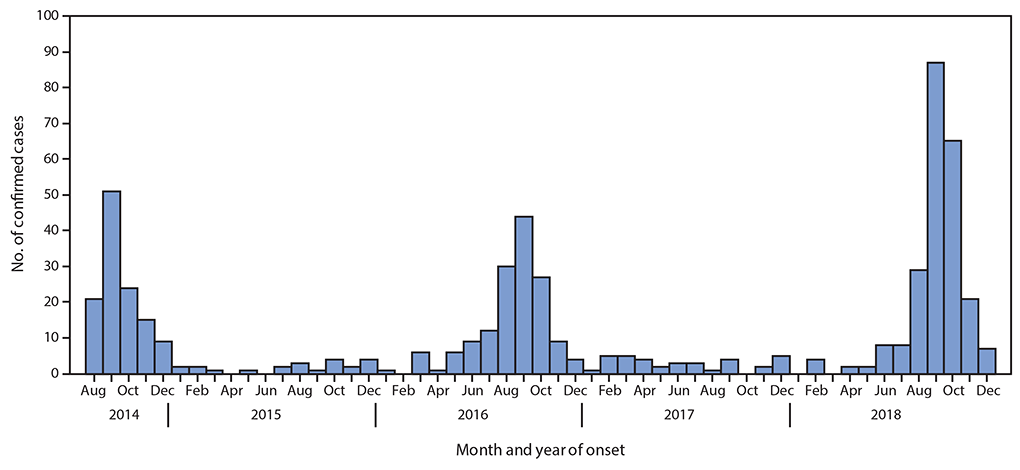 AFM is often called a 'polio-like' disease due to the paralysis that is observed in children with the disease. However, poliovirus is not found in the stool of children with AFM.
AFM was first defined in 2014 after reports of limb weakness in children across the US during an outbreak of respiratory disease caused by enterovirus D-68. AFM may also be associated with infections caused by other viruses, such as enterovirus A71, Coxsackievirus A16, West Nile virus and adenovirus. Since 2014 AFM surveillance has been conducted across the US.
Of the 233 patients with confirmed AFM in 2018, EV-D68 was the most frequently detected virus, mainly in respiratory samples. Only two samples of cerebrospinal fluid were positive: one for EV-D68 and one for EV-A71.
While it seems likely that EV-D68 is an etiological agent of AFM,  additional proof is clearly needed. Such proof would include showing that EV-D68 causes similar clinical disease in animal models following respiratory infection. These experiments have not been done but are a focus of our research.